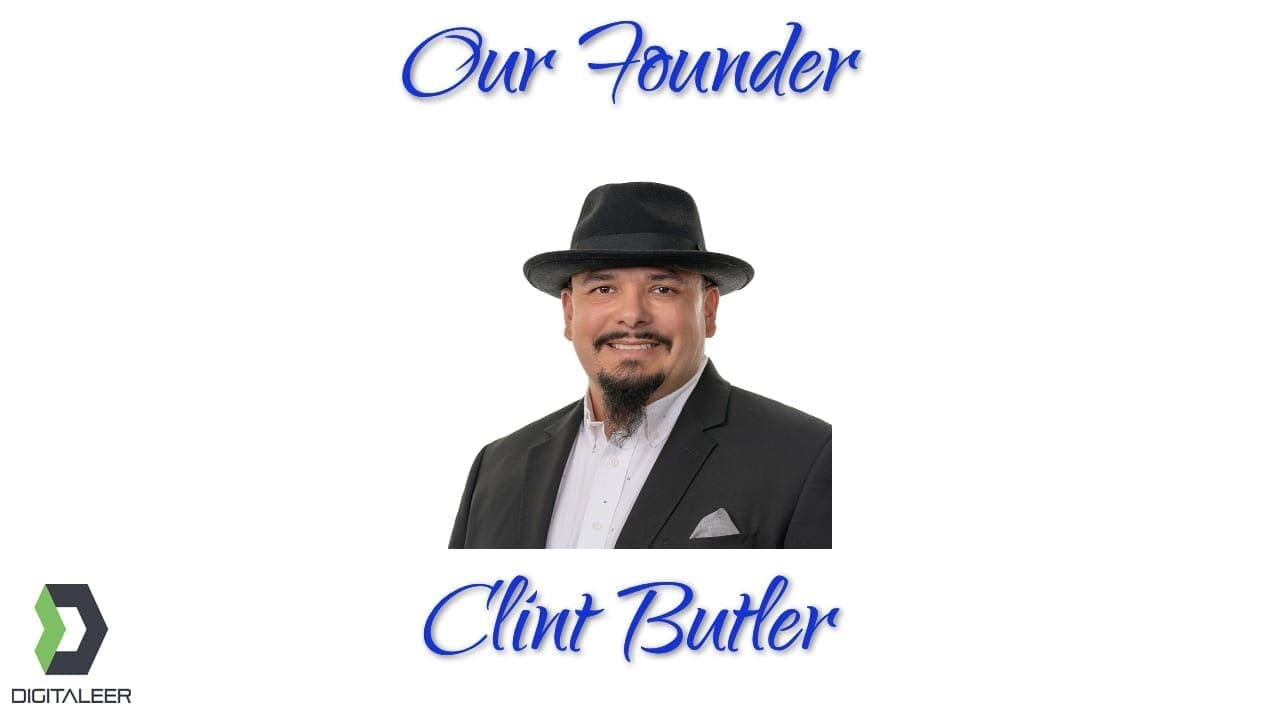 SEO Expert Clint Butler
You're not an
SEO expert
until someone else says you are, and that only comes after you prove it! Trusted by business clients and multiple marketing and SEO agencies all over the world, Clint Butler's SEO strategy experience and expertise and Digitaleer have proved to be a highly capable professional
SEO company
.
A little about Clint Butler.
Clint retired Non-Commissioned Officer from the United States Army.
He served just over 21 years as a member of the Military Police Corps.
He served just about every position during that time, from Machine Gunner to 1st Sergeant.
Clint was also a Military Police Working Dog Handler, Kennel Master, and DoD Certification Authority.
Clint deployed to three combat zones, Kosovo, Iraq, and Afghanistan.
His awards include three Bronze Stars and an Army Commendation Medal for Valor.
A couple of years before his retirement he knew that he no longer wanted to be in the Law Enforcement field despite earning his BA in Criminal Justice. To that end, he started learning about Internet Marketing, specifically, lead generation.
That road led him to reading about SEO and optimizing your site for search engine marketing for traffic generation.
He started to understand the basics and began earning money through affiliate marketing.
Everything was looking bright until he deployed to Afghanistan.
It was then he discovered that while affiliate income is nice, it doesn't last when you can't work every single day on your online presence and SEO efforts.
Clint then retired from the military and took a job as a Kennel Master for a contract company in Afghanistan teaching K9 handlers and working dogs how to protect our Soldiers and their bases in the theater.
Clint then returned home with a renewed sense of purpose a desire to own and operate my own Enterprise SEO business.
Olympia SEO was born.
Since then, Olympia SEO has been rebranded into the web design, PPC management, and SEO team that is today, Digitaleer.
Clint now holds a master's degree in Internet Marketing, a master's degree in Business Intelligence, and a master's degree in Public Relations. And is recognized as a structured data markup and onpage
SEO expert
.
Clint has been-been married to his beautiful wife Kimberly for over 27 years and they have two great sons.
★★★ DIGITAL MARKETING STRATEGIST EDUCATOR AND CONSULTANT ★★★
As a Digital Marketing & SEO specialist, Clint Butler has educated hundreds of Entrepreneurs, Freelancers, Agency Owners, and Business Professionals on how to get REAL results from SEO.

Over the past 9 years, he has conducted educational webinars on the topic of SEO founded a digital marketing agency, and created online instructional courses on the topic of Facebook marketing, Schema, and On-Page optimization.

He and his agency has retained by numerous SEO clients including agencies and businesses like Over The Top SEO, Cannon Companies, WhiteSands Treatment Centers, Greene Realty Group, Alpine Ductless, Family Dentistry of Hawks Prairie, YellowPages.com, and many more.

Clint has also been quoted as a subject matter expert in major SEO industry publications and other digital marketing websites.

Clint believes that any SEO Expert (or any SEO pro for that matter) should:

►► Always put the SEO agencies client first.

►► Represent what we do for search engine ranking in the most positive light.

►► Fully articulate that the SEO doesn't control the search engines, we work with them in order to achieve the desired result.

►► Understand that today's "guaranteed" working technical SEO ranking method could be tomorrow's penalty, always be testing to find more efficient ways to leverage search and marketing and increase your level of SEO expertise.

►► Understand that you're only done testing when the business closes its doors for good, until then, there is always room for onpage SEO, technical SEO, and understanding how search engines work knowledge improvement.

►► Recognize that business owners are the subject matter experts on their market, a good marketer leverages that knowledge. A great business owner knows they are not good marketers (in most cases) and trust the team they hired.

What Does An SEO Expert Know and Do?
Expert Application of Keyword Explorer Data
1. Keyword Research

Keyword data collection for the typical SEO starts by gathering keywords and sorting them by the search volume. They call this keyword research.

The SEO expert knows that keyword search volume is only the beginning.

Keyword analysis starts with search volume and ends with competition analysis and keyword user intent.

Keyword data analysis is used to drive everything from site architecture to content to advertising using pay per click systems on search engines and social media.

Get this wrong, and you'll waste thousands of dollars on campaigns for a keyword that doesn't convert no matter how much traffic you get.

2. Google Rankings Competitor analysis

The professional SEO expert knows that your competition on Main Street may not be your competition on the search results.

They are also experienced enough to know that those big business sites (Amazon, HomeAdvisor, Yelp) can all be beaten with the right amount of work.

They will be able to go site by site to see what keywords they are targeting.

What steps to becoming a customer are they trying to us (phone call, form submit, add to cart) from the visitor?

How many and where are they getting their links? Is there an emerging trend in their links?

Do you need citations, or can you just build normal links for a local sites SEO?

If you're lucky enough to be competing with a big box brand that spends so much money on technical optimization, product descriptions, and CRO (conversion rate optimization), you can learn from their advanced SEO data.

If an online competitor runs PPC ads, an SEO expert will know where to look at their ad history to find keywords that are converting based on ad history.

Search Engine Optimization Mastery
1. Understanding the basics of SEO

All too often, SEO practitioners, especially newbies, get caught up in the latest "shiny object" offered in the market for SEO.

A true SEO expert knows that none of those will help an SEO company reach the campaign goals if SEO basics are not applied first.

The expert will optimize everything from meta tags like meta title tags to content following basic best practices checklist before considering link building in their campaigns.

Building websites is like building a house. If the foundation is weak, the whole online presence house is weak.

2. Building a portfolio of websites that meet SEO industry standards

The professional SEO expert doesn't just optimize websites for other people and businesses.

They will always have a portfolio of sites in various technical optimization and advanced SEO states to supplement their incomes or just test different things in different search markets and search intent Google rankings.

Some even have news syndication websites, affiliate sites, or service business lead generation sites. They can use these private networks of sites for SEO clients link building, lead generation, or ad placement advertising.

3. Reading about SEO every day

The professional SEO expert knows that they don't know everything. Even though they may live and breathe search engine optimization, there is always something changing.

The SEO knows to keep their mind open to new ideas, even if they sound bad, for testing.

You never know when the random idea could be the difference in the sites SEO and being a #5 ranking or a #1 ranking in the SERPs.

4. Understanding how search engines work

The Google search algorithm, at its heart, is a mathematical formula.

That formula, like any other mathematical formula, has rules.

It's the job of an SEO expert and their SEO team is to determine what those rules are and leverage them in their SEO efforts while optimizing your site.

Professional SEO experts test multiple factors by optimizing content on-page and link building to determine the best combination of ranking factors for any given term.

They then give Googles' algorithm what it needs to determine if a page should be ranked higher than others while meeting user intent.

5. Apply the Google Quality Rater Guidelines

The Google Quality Rater Guidelines are a rare look into the company's ranking factors from a search engine optimization perspective.

The book was accidentally released into the public by some well-meaning Google webmaster employee, and ever since, Google has been keeping the document updated.

While not guides to ranking factors, it gives insight into how Google wants its reviewers to assess Google's quality of sites ranking.

This knowledge is applied by mini algorithms running ranking factors within the Google mathematical model to better rank websites in the search results.

While just as many people discount the document as do consider it gospel, an SEO expert will analyze the document and its updates to continue to devise and test new methods to rank websites for their clients.

6. Understanding Technical SEO

A professional SEO is not always a coder; however, they know enough about web development's technical aspects to have conversations with web developers and guide them based on their SEO audits.

SEO audits can determine issues with crawling, indexing, URL structure, scripts, and much more with a technical checklist.

A website optimizer can implement Schema JSON-LD structured data on your pages, enhancing the site's semantic relevance.

This SEO content will allow an agency or in-house SEO to capture rich snippets in the search results.

7. Understanding Content Marketing Strategy, Creation, Optimization, and Promotion.

An SEO Expert will work with marketing teams to turn their keyword research into actionable content creation plans that support the business's overall marketing goal.

While most business owners have no desire to be a blogger, increased targeted content does help a site perform better in organic search and get organic traffic.

An SEO expert will be able to optimize that content using new semantic technologies that result in better content for the reader and content that is easily scored by search engines.

Finally, they will develop promotional campaigns that tell the world about your content marketing.

Unless you're a big brand with a large audience, you'll need to promote your blog posts or YouTube videos to rank in organic search and get organic traffic.

8. Site Architecture

The professional SEO expert knows that just writing content and slapping it up on a site isn't good enough.

It's not good enough for search engines, and it's certainly not good enough for users.

Keyword explorer analysis will guide you in setting up a site structure that helps the math understand what your site is about and helps users digest your content and buy your products or services.

Social Media Integration into Expert SEO Campaigns
Understanding that social media is about brand building and entity establishment.

Social media sites like Twitter or LinkedIn for your business is about branding and content promotion.

A side product of that is also link building from websites that have the potential to drive a lot of traffic as your audience grows.

The SEO expert will guide you in identifying which networks your business should be active on and help you devise a strategy for content syndication to leverage them as easily as possible.

Link Building the SEO Expert Way
Use a quality backlink strategy that works, not one that is popular.

If you read enough about SEO on sites like Search Engine Roundtable, you will know how controversial the link building topic is.

This contributor or that telling their version of the truth and the importance of a sound link building strategy it to a successful website.

The fact is a true SEO expert will test all types of links and leverage everything that they can in moderation to create a diverse link profile and high rankings.

They don't let popular opinion drive their link building campaigns.

Link diversity plays a vital SEO role because it creates a level of protection against future Google algorithm changes that search engine engineers can make.

Relationship building and & outreach
Outreach and guest blogging is the new article marketing, and it works.

Assuming your SEO expert has a way to build relationships with relevant sites in your market that offers content placements on their sites.

Guest posting is one of many win-win SEO strategies because the site owner gets new fresh content for their audience.

Your website gets the Googles algorithm benefits via links and exposure to new audiences.

Competitor analysis will expose SEO strategies sites they are using for outreach.

And while some would classify outreach for link building black hat SEO, they would be wrong.

It can be one of the best promotional online marketing methods today because it helps generate targeted search engine traffic and direct traffic.

Link profile audits and cleanups
Link audits and cleanups are a search engine marketing activity that SEO experts deploy to keep your site protected from bad link building tactics or even errant links on thin content pages created by bad players.

Tools like SEMRush, Ahrefs, Majestic, Moz, Google Search Console, Link Research Tools, and SEO Spyglass need to be used together to get the complete picture.

They are used to analyze anchor text and search intent the anchor text was created for, thus identifying technical issues before algorithm updates affect the page.

A good online marketing company does the work, in the beginning, so they know they are building links on a solid foundation to protect against algorithm changes.

SEO knowledge gained from site audits also guides future link acquisition efforts to ensure high quality, easy to get, nice link sets are identified early.

The speed of this process results in better rankings. Never Forgetting User Experience

Conversion Rate Optimization (CRO)
All the rankings and traffic in the world mean nothing if they don't result in sales.

An SEO expert has enough experience in multiple markets to make changes to your website to increase those conversions.

CRO and SEO changes through copywriting, copy optimization, button placement for user experience.

Testing each is the best way to nail down conversions.

An expert can do that A/B testing using tools like Google Optimize and heat maps after optimizing content and site audits are complete.

Page Speed Optimization
Slow websites hurt user interactions and cause errors in Google Search Console.

While a small SEO benefit can be leveraged by optimizing page speed, you'll see better conversions from your visitors by taking it seriously.

And SEO expert is experienced enough in tools like PageSpeed Insights, Lighthouse, GTMetrix, and WebPageTest to advise on CSS, HTML, and JavaScript code changes.

The changes will help optimize interactive content for all marketing hub users, mobile or desktop, to meet their modern internet expectations.

Bounce Rates
Bounce rates are indicative of user experience and how well your content assets are performing.

A website optimizer will turn those rates into an extra advantage by making changes to poor performing landing pages and content assets your users are interacting with.

Google Analytics and Search Console to Measure It All
KPIs, Analytics, & Data Analysis are business and SEO guides.

Professional search engine optimization experts will show you how to read your Google Analytics and Search Console enterprise SEO accounts to determine when your campaigns are performing well.

They also tell you when that SEO content needs CRO and SEO changes.

Search engine optimization experts will also be able to create web analytics reports for you that take the mystery out of all those Google Analytics graphs and numbers, turning the information into actionable data for your website marketing team.

★★★ CONTACT A DIGITALEER SEO EXPERT IF ★★★
► You are an entrepreneur, consultant, or business pro interested in partially or entirely outsourcing your digital marketing, including web design and web development.

► You want a proven provider of search engine optimization who can obtain real results.

► You want the support of a marketer that will get you results and keep you profitable.

Book A Call
What is an SEO Expert?
An SEO expert is someone that is someone that knows how to get more traffic from search engines by optimizing websites to achieve higher search engine rankings.
What is an SEO Specialist?
An SEO Specialist (SEO practitioner) is a person who can apply multiple aspects of SEO basics and advanced SEO on and off-page to a website for higher rankings. Business owners typically hire SEO specialists in a freelance capacity to promote their business. Agencies have multiple SEO specialists on staff who manage individual task specialists to facilitate a campaign developed by an SEO Consultant.
What is an SEO Consultant?
An SEO Consultant works with business owners to identify search optimization gaps in their digital marketing campaigns. They also work with business owners to develop an SEO campaign to be implemented by SEO specialists.