PPC stands for pay-per-click, a model of internet marketing in which online advertising businesses pay a fee each time one of their ads are clicked. It's essentially a way of buying visits to your site, rather than attempting to "earn" those visits organically. It is faster than running a Search Engine Optimization campaign; however, the traffic is gone once you stop paying.

Social Media ads (Facebook) and paid search engine marketing (Google Ads (formally Google AdWords) and Microsoft Bing Ads) are two of the most popular forms of PPC advertising. Their PPC platforms allow advertisers to bid for ad placement in social media and paid search engines' sponsored area when someone searches on a keyword related to their business offering.

PPC campaigns are a great way to increase business revenue, drive targeted traffic, and increase brand recognition across multiple platforms.

PPC Management Services
Paid search platforms such as YouTube Ads, Google Ads (formally AdWords), Facebook Ads, and Microsoft Bing Ads are important to your business.

With our pay per click advertising (PPC) expertise, we can help take your accounts to the next level. We customize strategy and reporting tailored to your search engine marketing needs.

We provide the support and the paid ads guidance you require to accomplish your goal, be it maximizing return on investment, increasing conversion rate optimization for leads, or driving brand awareness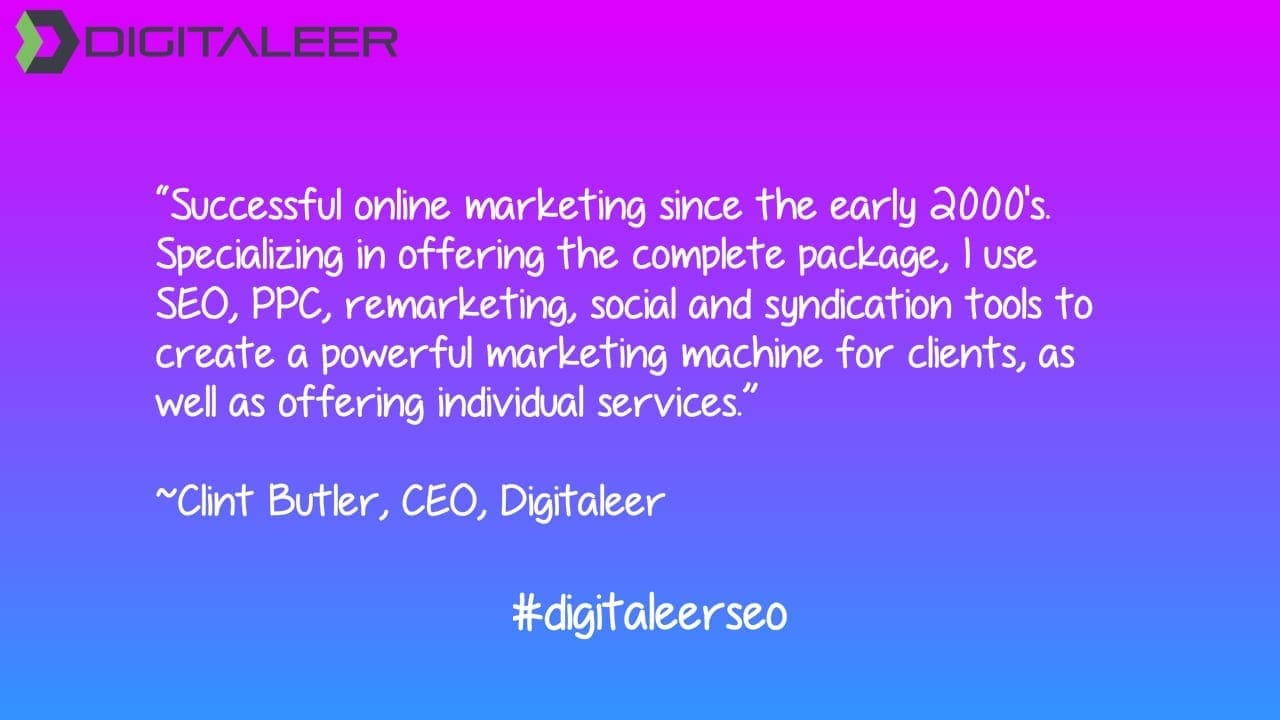 How Does Our PPC Management Company Help Your Business?
Our PPC management service includes the following components:
PPC search campaign strategy
Keyword research and selection
Ad creative development
Campaign setup
Geo-targeting set when applicable
Bid management and ROI tracking
Landing page optimization and development
Campaign management and analysis
Reporting
PPC Campaign Development Strategy
To get the most out of a pay per click campaign, you have to do some campaign optimization research to build a solid foundation. The PPC campaign strategy is an essential piece to planning, executing, and optimizing paid ad campaigns any legitimate Premier Partner digital marketing agency service provider will employ.

Suppose you, or your current PPC management company, are not taking the time to map this stuff out. In that case, you'll end up just throwing money at companies like Google with little in return (Trust me, they make upwards of $30 Billion a quarter, they don't need yours without getting something in return).

Define Goals and Budget – The first step is knowing what you are trying to do with your ad campaign. Are you looking to drive traffic to a website? Are you looking to drive phone calls? Are you looking to sell an Ecommerce product?

Knowing this allows your PPC company to define what a conversion looks like to you, the business owner, so the agency understands what a successful PPC campaign looks like.

While at the same, business owners need to define their monthly ad spend amount realistically.

All too often, business owners underestimate the cost of an online advertising PPC campaign that could be competitive enough to drive the cost per click costs up into the hundreds of dollars.

During this planning phase, your PPC agency will guide you to choose a budget that has a realistic chance of getting enough clicks to determine if the return on investment is worth if for your chosen search terms or interests.

Analyze competitive landscape – During this step, we research to find out what your competition is doing with their ad spend.

Depending on their data patterns, they may have spent money for quite some time and have their conversions and cost per conversion (CPC) dialed in. Knowing this information through competitor research reduces the money your PPC company has to spend to learn the same things for your business.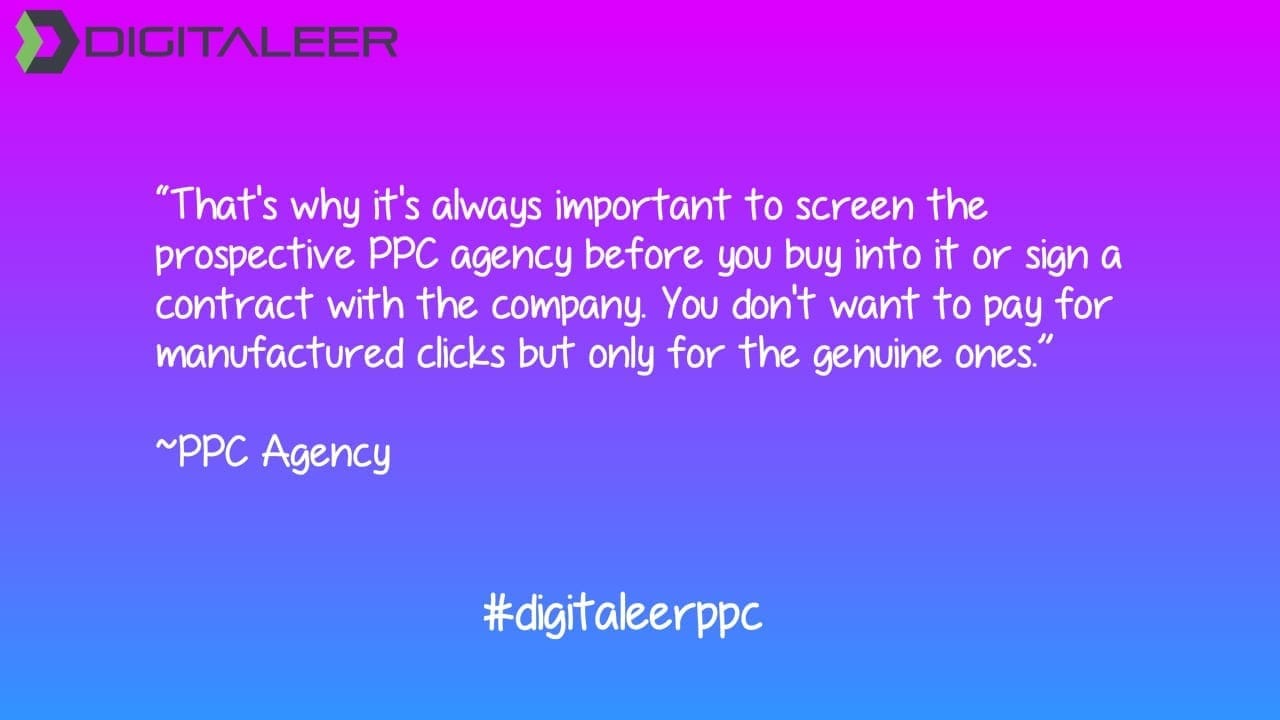 We ask questions like:
What advertising platform are they leveraging the most in their marketing campaigns?
What landing pages are they using?
What kind of quality scores and clickthrough rates are they getting?
What keywords are they targeting, or do they boost during specific times of the year?
How long have they been paying for those keywords?
How long to they boost their ad spend?
What are the different ad variations they have used?
Are they using PPC for content marketing?
Are they using PPC for lead generation to find potential customers?
Are they doing lead generation for phone calls?
Are they doing form submit lead generation?
What is their estimated Monthly Ad Spend?
What are the broad and exact match terms they may be using?
Where are their pages on the search results page?
Do they sell an Ecommerce solution?
Are they using Display Campaigns?
Are they using Custom Display Ads on each network as part of their digital marketing strategy?
Do they leverage a banner advertising network?
Does their primary target keyword overlap with the competitors' advertising campaign strategy?
Are they leveraging call tracking?
Are there signs of active split testing in their digital strategy?
Are they using a remarketing campaign to recapture website traffic?
Knowing keywords, they're targeting for the longest periods lets us know, as market researchers, that they are converting customers with those terms.
Keyword Research and Selection
Keyword research is where the money is gained and lost in paid search marketing.

Improper keyword selection or failure to identify negative keywords by PPC marketers can potentially cost you hundreds of dollars.

Your marketing manager should look at the "dream keywords" (typically broad) you have selected and what the competition has chosen. PPC specialists then build a list of those terms with keywords and interests that are highly related, have reported traffic, and fit within our geo market area to narrow down low-cost/high-conversion terms.

Your account manager does this by examining the search results, keyword research tools, your Google Search Console account, and data sources widely available on the internet for Digital Marketing and PPC company use.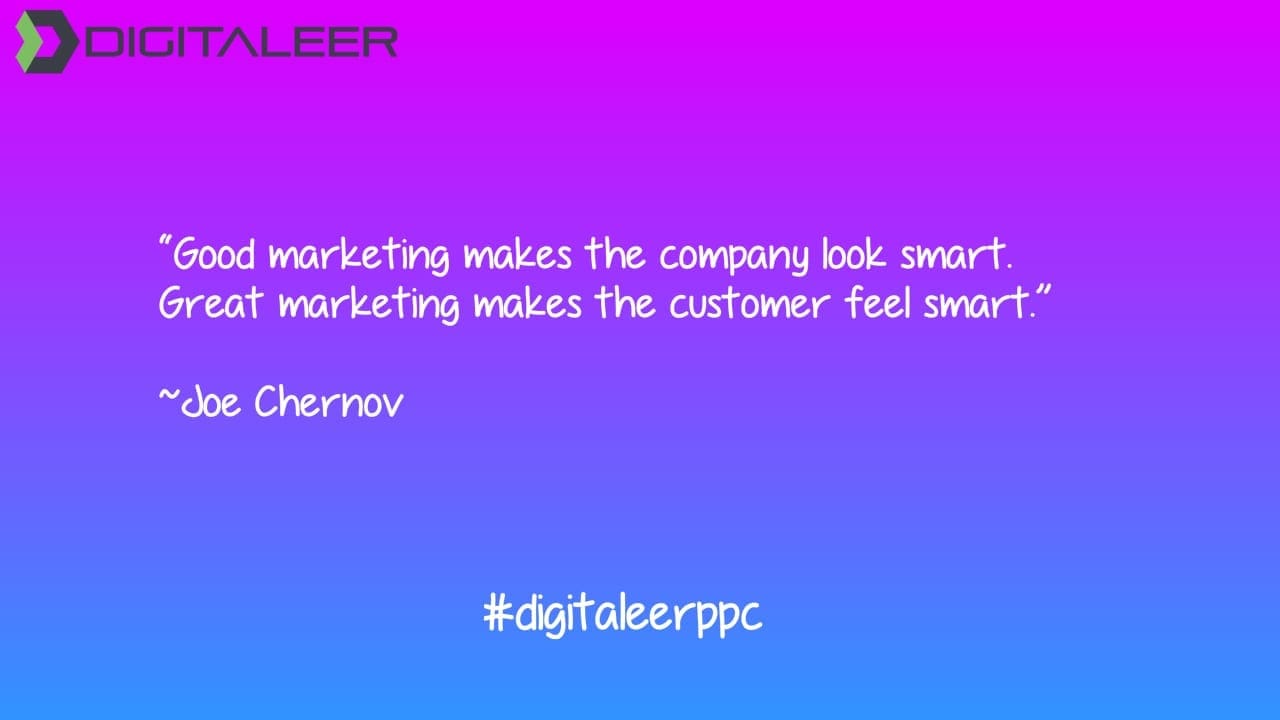 Ad Copy Creative Development
Ad copy is where our account manager copywriting skills come in (or a good copy swipe file) to help get the social media or search engine user to click on your ad versus the 100's of others they see in browser windows.

With them, your PPC marketing agency account manager will follow a simple but effective ad template:

Used the targeted term at least once in the headline and body
Include action terms like "sign-up," "call us," "call today" at the start of the ad
Make a promise with price or a statistic
Highlight the benefits of your product or service

It's a whole lot to get into the limited text lines Google Ad's makes available, but it's up to your PPC agency or ad writer to get all of that in there as best as possible.

Then they need to create multiple variations of your PPC ads for testing to find the best possible ad/keyword combination for increased conversions and a higher return on investment.

Finally, we configure the many available PPC ads extensions that we're allowed to increase clickthrough rate (CTR).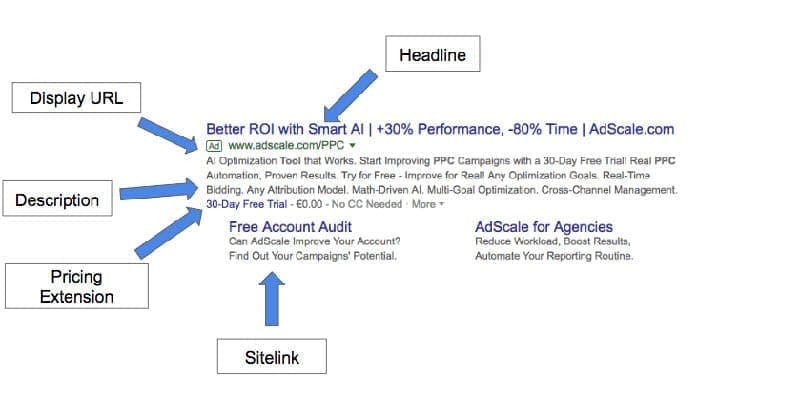 Campaign setup
At this point, it's all about setting up your paid search campaign ads account in a way that supports your market strategy.

For Google, there are Campaigns, then Ad Groups, then the Ads themselves.

Here we structure everything in your paid search marketing account to ensure that your keyword sets are properly categorized.

For example, if your business offers roof repair, roof replacement, roof installation, and roof inspection services, those will make up four unique campaigns with their own set of target terms (set in Ad Groups) and Ads.

It's much the same way; however campaigns are divided up by interests.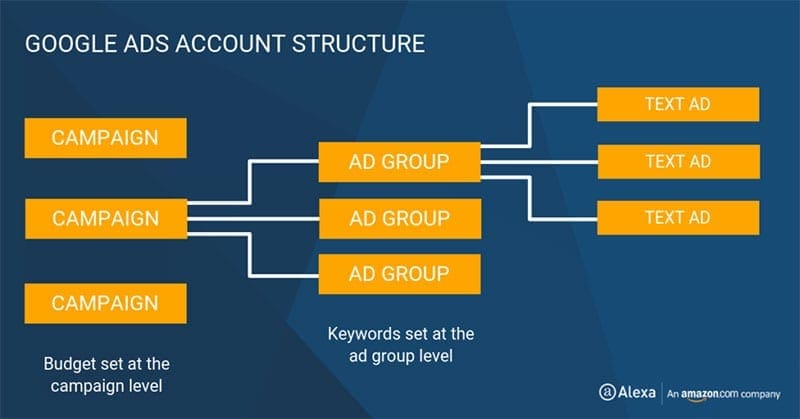 Geo-Targeting
Often overlooked in pay per click management, this one thing can potentially save you a ton of money and frustration.

PPC advertisers often look at search volume with excitement when selecting keywords and run ads that cost them a lot of money; however, they do not make a dime.

Geo targeting is particularly an issue in the local business arena (the primary users of Google Ads).

PPC advertisers have to properly set their Geo-targeting settings to target their desired target audience in relevant service areas.

Doing this may tell you a couple of things.

First, it may tell you that people in your area don't use that high search volume keyword at all.

Second, it may tell you the keywords your target audience and qualified leads are using; this vital knowledge alone could reduce your ad costs.

As an example, we were running a campaign for a Ductless AC seller. Their campaigns included the term "ductless heat pump," which at the time had a search volume of 14000 searches a month. However, when we applied geo-targeting to the campaign, we learned that in their service are users were looking for "ductless heating and cooling units."

We used this information to reduce their pay per click advertising budget, increase their conversions, and improve their SEO campaign.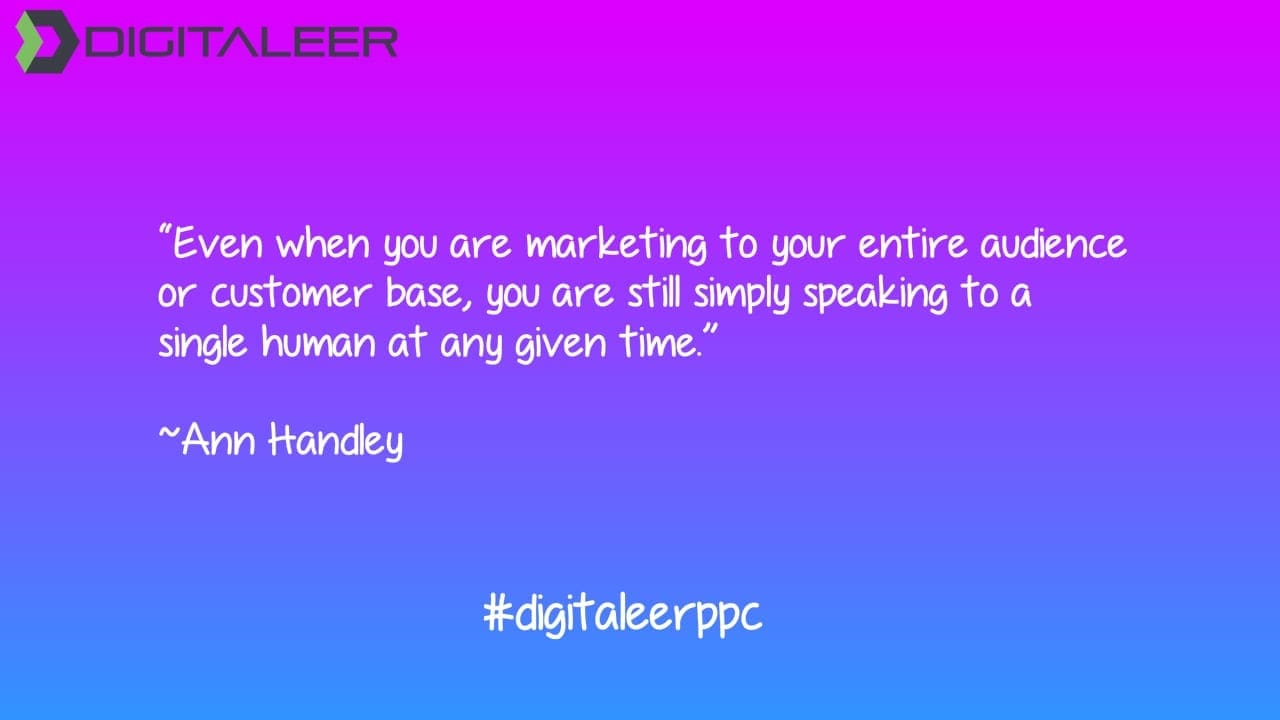 Bid Management and ROI Tracking
What are we spending, and what are your conversions?

There is a lot of vital technical setup behind this, but as you PPC marketing agency, your assigned marketing manager will set all the vital tracking pixels in their proper place.

We connect your analytics account with your paid search campaign Ads account.

And we monitor which traffic is turning into conversions to ramp up while identifying the losers and potential click fraud to add to our negative keyword data set.

Landing Page Optimization and Development
Landing page optimization is where we shine.

Since we started as an SEO company, our web developers have the unique ability to optimize your custom landing pages for conversions, quality scores, and SEO simultaneously. Something that any other PPC company fails to do because they want you to keep buying ads.

But imagine if your PPC agency took the vital information learned from your campaigns and optimized your landing pages to rank higher in the search results page. Thus allowing you to generate lower cost targeted organic traffic—all allowing you to transition your PPC budget to other terms and expand your reach.

If you are an Ecommerce manager, you'll love this approach because your ecommerce business will be able to take a ten thousand foot view of your product line and adjust your pay per click marketing based on buyer trends.

We do that.

Campaign Management and Analysis
Finally, we do something most business owners just don't have the time to do; we watch your campaigns.

There is nothing worse than waking up to a surprise burst of junk traffic that just cost you tons of money. Having a PPC company Monitoring campaigns helps you avoid that.

And our analysis of landing page conversion optimization, ad CTR rates, and impressions allows us to add and delete keywords to make sure we're increasing your traffic and conversion rate optimization while reducing your overall cost per customer.

That's how you make money off of PPC.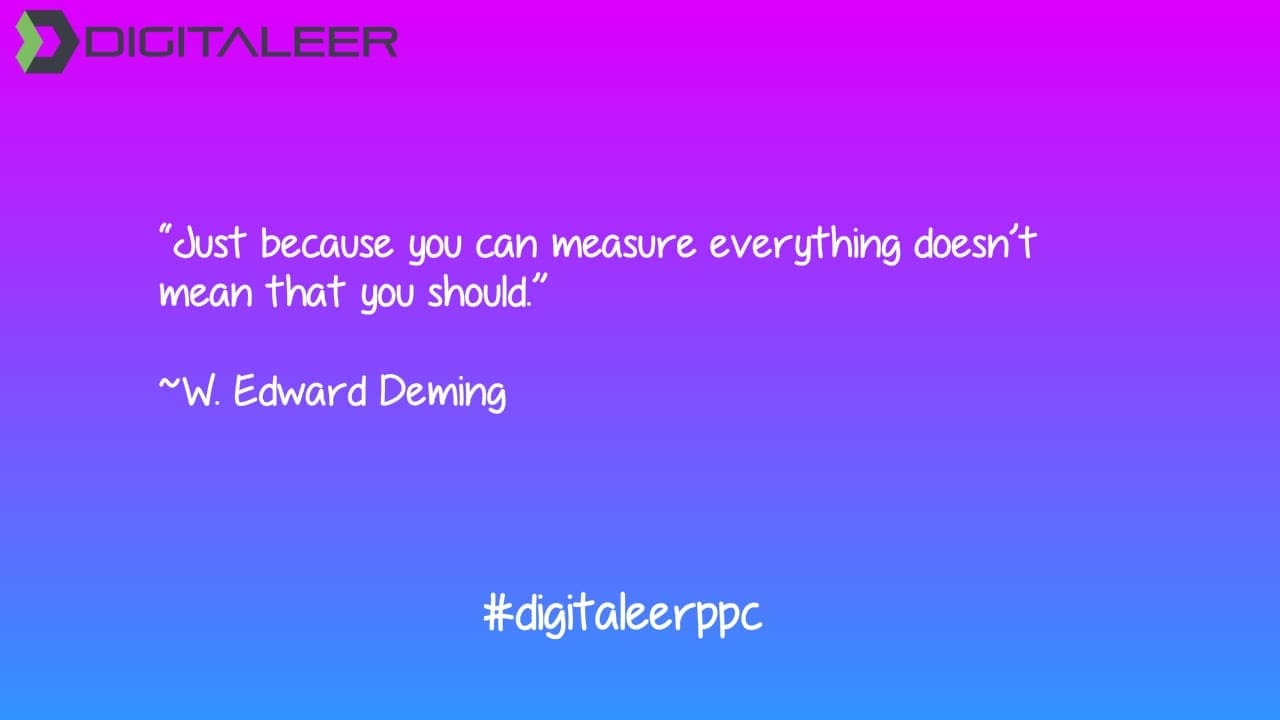 Reporting
Unlike many PPC company practices, we build your campaigns in your ads account client dashboard so you can see everything happening live. While this does create the potential for an adventurous business owner to make changes, we're a team, so we roll with it.

We can also create your campaigns in our account if you want to spend a flat fee (ad spend + monthly management fee) on a monthly basis leaving the rest up to us.

Regardless of the way you chose, we'll keep you informed.

We report monthly on your campaign's success regarding keyword choice, conversion tracking, and ad testing. We also create ranking reports so you know where you rank organically on the search results page for the vital keywords you pay for.

These monthly reports are also updated automatically whenever accessed, so you can view your data when you want and need it. Additionally, after you review the report, we'll book a one-hour call with the onboarding point of contact of your team of account strategists to explain your campaign's progress, direction, and answer any questions you may have.

Let Digitaleer Be Your PPC Company
Now that you are armed with more information about what goes on with a PPC management services campaign and some of the behind-the-scenes action that takes place at a PPC company running your digital marketing campaign, its time to make a call.

Call Digitaleer today to talk with a PPC agency that has your interest top of mind to get you the best results possible with our PPC management service. Or click the button below to have us call you!

Request A Quote Today!