---
The Most Common Mistakes in Search Engine Optimization Everyone Should Know
Search Engine Optimization has been playing an important role of everyone's marketing strategy. While SEO Techniques continue to evolve and change through time, it is still regarded as one of the primary thrust of every company and all individuals as it holds the most powerful strategy in driving audience to websites and blogs and making possible conversions.
Search Engine Algorithms are constantly updated from time to time. This makes SEO specialists' jobs absolutely challenging since the formula that has been seemingly effective might no longer work in the coming days or months. There is a possibility that the tools and techniques that are being used which has been producing massive traffic may result to unexpected rank drop.
Search Engine Optimization mistakes are really hard to determine. Choosing which SEO method that should be avoided can be a little tricky since through the years, search engine's systems are now becoming too unpredictable. While the common search engines' algorithm in the online world today keeps on changing, there are still SEO practices that are proven effective while there are part of it that are unsafe in the long run. Let's tackle all that in this article.
According to an article written by Alexander Kesler, a VIP Contributor from Search Engine Journal, there are 10 common SEO mistakes that we should avoid:
1. Choosing the Wrong Keywords
Optimizing is all about the keywords that you want your website to rank for. But are you are choosing the right ones?

One of the most common mistakes in selecting keywords is neglecting the preference of search engines and users for long-tail keywords. While you might define your products and services in a certain way, it's more important to understand what words your potential customers would use to refer to them. Sometimes the terms you consider correct might mean something completely different for other people, or could be too generic. In either case, you will be optimizing for all the wrong keywords.

It's best to do your background research carefully before you start the optimization. Using tools like the Google AdWords KeywordPlanner, Google Trends, SEMrush and Moz Keyword Explorer can help immensely in putting your finger on the pulse of trending and adequate keywords.

2. Using Keyword Stuffing
You might think using your target keywords in every sentence of your content would boost your ratings. That strategy couldn't be more wrong. In fact, going overboard with using keywords is registered as spammy by search engines, which means it actually hurts your SEO performance.

That's why keyword 'stuffing,' or overusing your intended keywords, is not crucial to your SEO success. Such an approach would make your content unnatural and useless for its intended audience. In fact, Google is employing a special semantic search called Latent Semantic Indexing (LSI). This program can recognize your content's topic without the need for stuffing your content with repetitions of your target keywords.

3. Creating Content That's Not About Your Keywords
Another common pitfall in SEO optimization is producing content that is not actually about your keywords. The problem is that you want to rank for a certain keyword, but you fail to focus the text on your target topic. Search engines like Google want to serve their users with the most relevant content for people's search terms. Thus, if your content does not answer user needs, it won't rank well.

This mistake is often a result of trying to fit a few different topics within a single piece of content, creating low-quality work just for the sake of including keywords, or optimizing for multiple keywords in one article. Your primary goal should be to produce content that truly corresponds to the questions and Click here to read more
Mr. Kesler also added that these advice he posted online may absolutely be helpful to anybody. He mentioned that SEO mistakes is common and the most important work ethics about SEO it is for your to be able to get yourself familiarize with it.
In another article posted in upwork.com, being encouraged by black hat temptations is also a big mistake everyone should not follow:
There have always been plenty of ways to "cheat" the search engines by using spam tactics for backlinks, exposure, and traffic. While some of these methods will still yield a temporary gain, they can also lead to long-term penalties once they're discovered. Here are just a few to avoid:

Using duplicate or low-quality content

Keyword stuffing

or hiding words on-page
Questionable redirects and traffic patterns
"Scraping" (i.e., stealing) content from other sites
Cloaking or other tactics to hide a site's real intent

While it may be tempting to take a few shortcuts, it's simply not worth the risk of having a website de-indexed from search engines entirely. Read more common SEO mistakes here
In another idea, Neil Patel also posted on YouTube about his thoughts on SEO Mistakes to Avoid.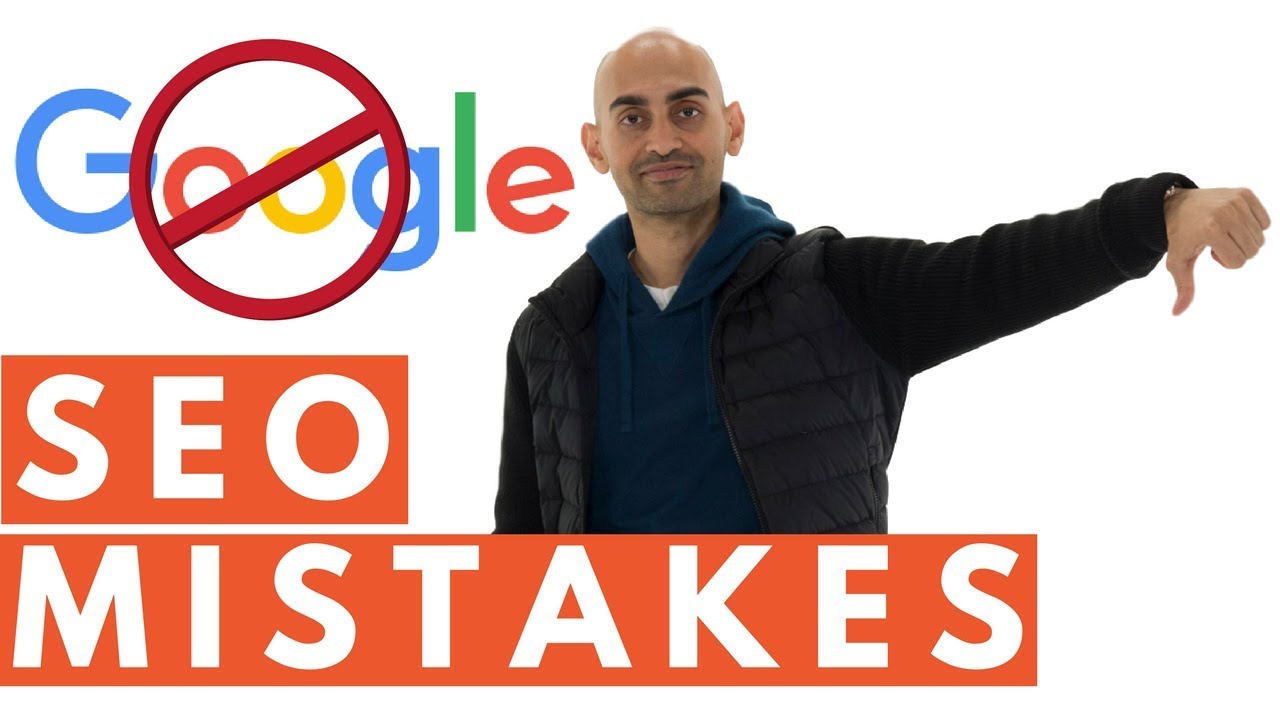 In the video above, Mr. Patel specifically highlight the 3 Black Hat Techniques That WILL Get You Banned from Google.
Overall, the most important thing to always remember is that SEO has never been fully predicted since Search Engine Systems constantly change form time to time. The Good thing that you can get from the mistakes that other SEO specialist encounter is that you always learn from their experience. Getting acquainted to their practices and which one to avoid and follow is already a good catch that you can use in your future SEO Projects.
Recommended Resources:
SEO Checklist for Content Marketers: 21 Common Mistakes to Avoid
Smart Keyword Research Methods For Improving Your SEO
On-Page SEO: Guide To Creating A Top Ranking Page