---
STW Episode 61 – 4 P's of Marketing, Reddit, Important Metrics
Welcome to Episode 61 of SEO This Week.  This week we bring you some great info about marketing that not a lot of people know, particularly new SEO's.  We take a look at AHref's and their new update to Domain Rank that has some people up in arms.  We look at a case study that used Reddit to generate 2000 leads in 3 days.  And we look at some great metrics that you can find in your Google Analytics and Google Search Console accounts to make real decisions about your SEO and PPC campaigns for some quick wins.  All this and more on SEO This Week Episode 61.
Marketing Mix Is Key To A Successful Marketing Plan
Sick of using a "spray and pray" approach with your marketing? If so, here's how to plan your marketing mix and take a strategic approach to customer acquisition. Read more…
Our Insights:  All too often business owners and SEO providers tend to forget that they are doing marketing when looking at rankings for their sites.  This post puts a lot of marketing principles into easy to understand terms.  It also provides a great overview of each of the concepts behind the "four P's of marketing.
---
Marketing on Reddit: A Case Study
How do you generate thousands of email subscribers and leads from Reddit without being annoying or spammy? Find out how I managed to build a 2,000+ email subscriber list in 3 days, from a single Reddit post. Read more…
Our Insights: Reddit is a great place to get tons of traffic to your website and exposure for your brand.  However, unlike sites like Facebook and Twitter where pretty much anything goes, Reddit users will eat your lunch if you come in there with a pure "I'm going to promote my stuff" attitude.
This guide does a great job of outlining how they used the site to generate leads and subscribers from the site quickly without facing the wrath of the Reddit.
---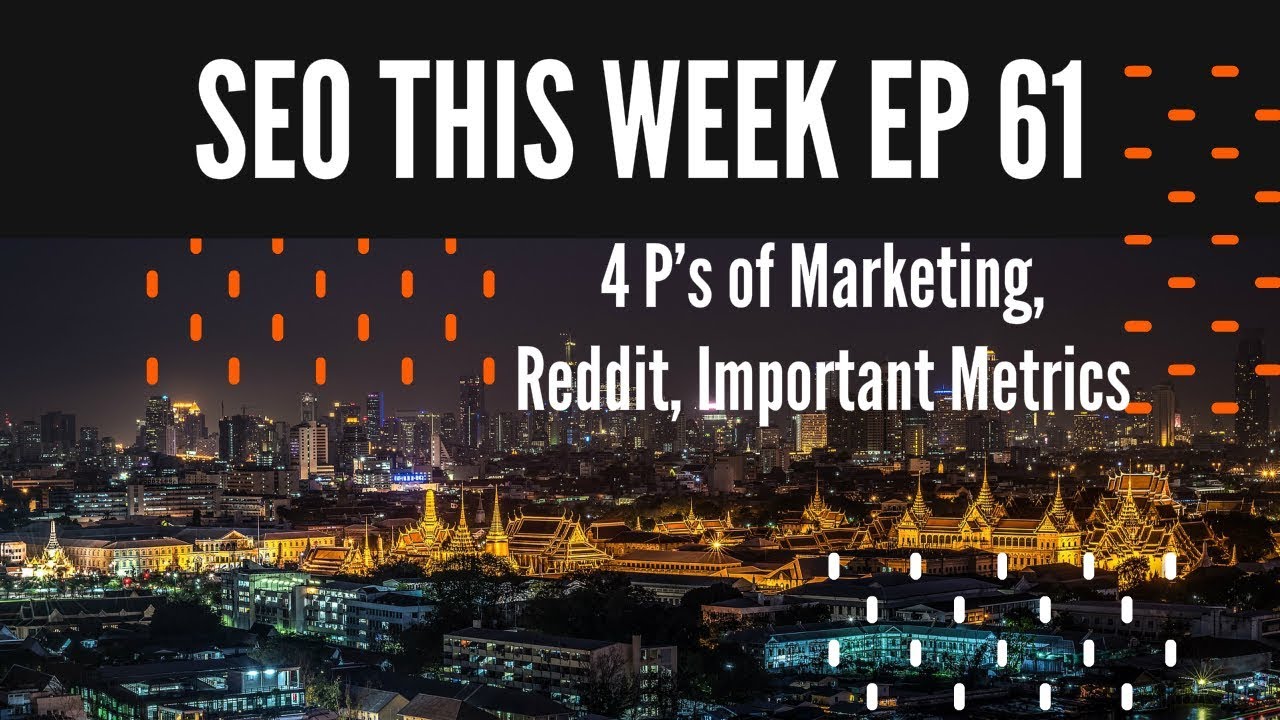 The show is live on YouTube at 2PM PST on Friday, come by and chat with me or bring your site for an audit.
---
10 Website Personalization Hacks to Skyrocket Your Conversion Rates
I'll be honest: I don't like general marketing statements. You know the ones. I cringe a little bit when I hear "know, like, and trust." The problem is that these are too flimsy. They're not actionable or instructive. And they very rarely come with cold-hard data behind it. Turns out, though, that there's a little Read More
Our Insights:  The best SEO's look beyond simply ranking websites and focus on combining conversion rate optimization in with their SEO efforts.  Even things as small as your title and meta descriptions can help conversions, so this post is great because it gives you more for your arsenal.  Including using User Flow to track your visitors will help drive your SEO campaigns for the best converting products.
---
Introducing the NEW Ahrefs' Domain Rating (and how to use it)
A lot of our customers track fluctuations of their websites' DR almost religiously and quite often get very nervous if it drops by a few points. We're going to roll out a new and improved formula of how we calculate Domain Rating. Read more…
Our Insights:  Services that offer metrics to help you filter and measure the "authority" of your website often have to look at how they are doing that and presenting the numbers.  However, this tends to devalue their metrics until people learn the methods of how they are determined and how they can assess their perceived value.
This is especially important when we talk about link building and getting quality backlinks for your site, regardless if you are building them via white or blackhat methods.  I don't know what these changes will bring for users, I do know, that for me I have to review how we use the metric to filter link opportunities because otherwise good sites will now be marked as DR 0, which could mean we would otherwise overlook them when assessing hundreds of opportunities.
---
How Link Building Will Change in 2018
Building links is still going to be important to SEO in 2018. According to a 2017 survey by SEO Powersuite, 72 percent of SEO pros believe backlinks are a significant ranking factor. While links obviously aren't the sole indicator of a website's quality and information, they do have an impact on organic search.  Read More…
Our Insights:  I don't typically put these types of posts in SEO This Week because they are so subjective, however, I've seen a lot of people new to SEO and clients referencing them like they are gospel.  Frankly, I think this guy is full of crap, watch the video or listen to the podcast because I'll break down each of his "methods" and why he's just plain wrong.
---
Most Important SEO Metrics to Consider in 2018
Search engine optimization and reporting go hand in hand. Clients need proper reports which help them understand the ROI achieved from SEO. In the past, a metric like keyword rankings was enough to make a client happy, but things have changed, and most importantly they have changed for the better.So, what are the most important metrics that every SEO must consider in 2018? Read More…
Our Insights:  The amount of data in Google Analytics and the Google Search Console can be a bit intimidating.  Frankly, when I first started I was doing what most people do, looking at the traffic volume, then calling it good.  However, there are some great metrics on both platforms that will help your marketing and even tell you where to go for some quick wins.
Images from fieldboom.com, kissmetrics.com, ahrefs.com, searchenginejournal.com, semrush.com