---
STW Episode 60 – Updates, Content, PageRank and More!
January 26, 2018
An Investigation Into Google's Maccabees Update
Google rolled out an update which was quickly named the Maccabees update and the articles began rolling in (SEJ , SER). The webmaster complaints began to come in thick and fast, and I began my normal plan of action: to sit back, relax, and laugh at all the people who have built bad links, spun out low-quality content, or picked a business model that Google has a grudge against (hello, affiliates). Then I checked one of my sites and saw I'd been hit by it. Hmm. Time to check the obvious. Read More…
Our Insights:  I actually enjoyed this article because it shows what a real SEO would do when they see changes that potentially could have been the result of an update.  The author didn't panic, and more importantly, he didn't jump on the bandwagon declaring that he "knew" what the update was.  He simply followed the data and looked for ways to reverse what happened.
---
Why Great Content Is Unique Content – Here's Why #150
Thrill to the intrepid explorer Iowa Jobs as he seeks the true Wise One who can lead him to the ancient treasure! And stay to learn about the treasure of uniqueness for your content development. In this episode of our popular Here's Why digital marketing video series, Stone Temple's Mark Traphagen explains why uniqueness is Read More…
Our Insights:  With so much content being created every day you have to figure out a way to make it unique.  But what exactly does that mean?  Does it mean original? Do you have to think of something new that nobody has ever heard of?
Nope, it means just approach stuff in a fun and creative way.
---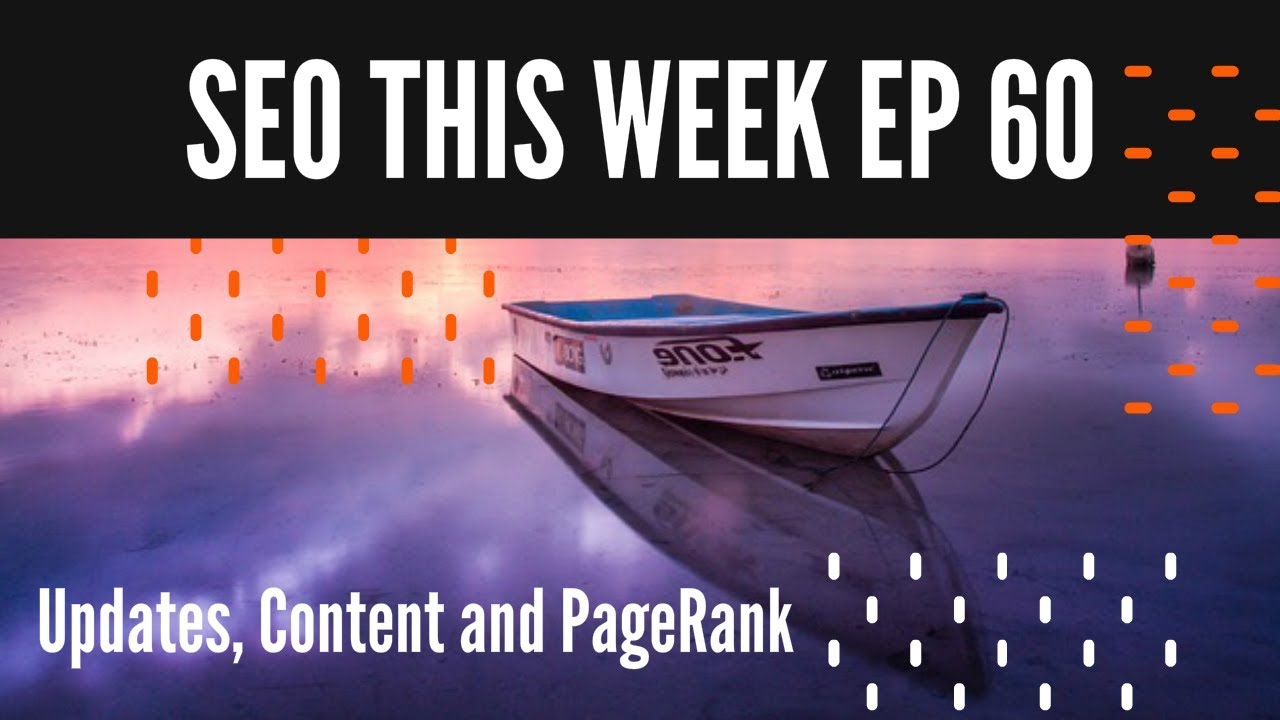 ---
7 Useful Facts About PageRank
There are many things that can be known about how PageRank is spread around a site and from one site to another site. And like many things about SEO, there are some misconceptions. This article links to research, patents and Google statements as proof and when it doesn't then it'll be made clear. Here are seven interesting facts about PageRank. Someone asked me how much link equity (PageRank) passes from one site to another site to another site. Well, the exact calculation is not known. Read More…
Our Insights:  This is an interesting article because it says there is no such thing as Domain Authority, while it tells you how to shape a "metric" that is no longer publically updated.  If its not publically updated, how can a word of be believed?
---
SEO's Long Tail Keyword Problem
So often when we think about the long tail of search, we think of the prevalence of phrases with three, four, five or more words. Today I'm asking you to think of long tail keywords differently. Read More…
---
Supreme Court Will Hear Arguments for State Internet Sales Tax
The US Supreme Court internet sales tax ruling may have big implications for your small business, especially online sellers. Learn more after the jump. Read More…
Our Insights:  We all know it was only a matter of time before the Supreme Court addresses this again.  I can tell you that if they overturn the old ruling and states are allowed to an applied sales tax to e-commerce prices are going to jump through the roof as the process of collecting varying sales tax for 50 different states is just going to be horrible.  A small business running e-comm definitely doesn't want this to happen.
---
Alibaba's New Source Now Tool Gives Small Retailers a New Edge When Finding Merchandise
Alibaba.com (NYSE: BABA), the largest B2B trading platform in the world, has just introduced Source Now, an innovative sourcing tool that can help level the playing field for small retailers — and e-commerce businesses. Your larger competitors have long had a buying advantage on you, with their bigger budgets (for travel and attending trade shows), experienced buying teams and global network. But using Source Now enables you to source products with a few click strokes on your computer. Read More…
Our Insights:  If sourcing the manufacturing of your products was a sticking point for you, well now you have a possible solution.
---
GoDaddy Acquires Main Street Hub, Now Offers Social Management to Its 17M SMBs
GoDaddy is set to acquire social media marketing company Main Street Hub for $125 million. Main Street Hub, which focuses on marketing automation, CRM, social media, and reputation management, helps GoDaddy broaden its already vast cloud platform. The acquisition is expected to close in the second quarter of 2018. Current Main Street Hub co-CEOs and Read More…
Our Insights:  Well, as if their terrible hosting and poor customer service wasn't enough, no GoDaddy wants to mess up your social media accounts as well.
Images from .SEO, moz.com, stonetemple.com, searchenginejournal.com, seerinteractive.com, smallbiztrends.com