---
STW Episode 57 – Bringing In 2018 with Email and Rich Snippets
Welcome to the first episode of SEO This Week in 2018!  I have to admit I got stupid busy with my Seattle SEO business and my other project as Head of SEO for another agency where I'm crazy happy.  So I will be ending 2017 with a great outlook for 2018 thanks to the team at Over The Top SEO.  This project has exposed me to a great number of challenges as I took over the SEO for their entire client base, no small responsibility.  Coupled with a few much larger, and more lucrative, projects brought together by the owner.  Needless to say, SEO This Week took a back seat while I got a better handle on that.
Now that I'm back, I look forward to getting into the full swing of everything here and so excited to continue being your source of SEO news and updates.  After all, with all of the bias in our industry I know its refreshing to me to be around people who take the "drama" out of our industry and just talk about what's going on.
With that said, let's get to this week's stories, and HAPPY 2018!
Find Any Email Address: The Ultimate Guide (2017 Edition)
At over 800 hours and thousands upon thousands of email addresses discovered per month – as you can imagine – we've tried out pretty much EVERY email finding technique known to man. Today I'm going to pull back the curtain and share 17 of our absolute BEST email finding techniques. If you're currently doing outreach and struggling to find the email addresses you're looking for – you'll find this post very useful indeed. Read more…
Our Insights:  I found this article quite some time ago and have not had the opportunity to share it just yet, so no time like the present.  If you have ever done real outreach you know it can get a bit tricky finding the email addresses.  And it's even harder getting them to open your messages.  Well, this post helps out a little bit with one of those challenges.
---
Are Nofollow Links Actually Good For SEO? Here Is Proof…
Nofollow links are detested by SEOs as much as an IRS employee is at tax time. It is simply unfair. But there is hope for the resurgence of the nofollow link. Read on, see what we discovered in our study about nofollow, anchor text, and rankings, and I promise you will look at nofollow links in a totally different light. Read more…
Our Insights: So the question becomes, are these sites ranked #1 because they have nofollow links and Google expects that as part of a natural backlink profile? Or is it that nofollow links actually carry SEO value?
I've long held the belief that nofollow links do in fact pass some sort of ranking boost.  I've ranked pages on several of my own sites with just nofollow links.  Perhaps that was because the links were on sites that Google-owned, but, they were nofollow non-the-less.  Now there are a lot of people out there who believe that nofollow has zero value, and it's a valid argument if you believe they pass no juice at all.
This small look at the data does indicate that nofollow are natural links in a profile, however, and webmasters shouldn't discount them as useless.
---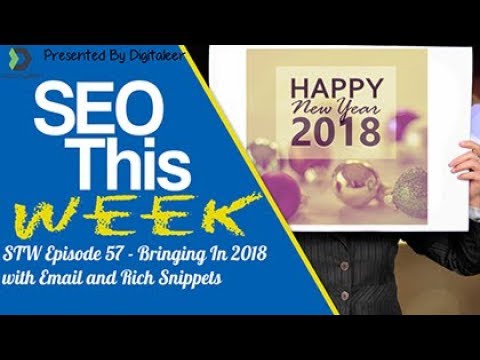 ---
Google Introduces Rich Results Tool for Testing Structured Data
Google has introduced a catch-all tool for testing rich snippets, rich cards, and other "rich" additions to a website's content.
Currently, the rich results testing tool is able to test the following types of structured data: recipes, jobs, movies, and courses. Google notes this is just the first step, and support for more data types will be rolled out over time. Read more…
Our Insights:  With Google taking up more and more of the search results with snippets I think this is a great addition to the tool for webmasters.  After all, if you can snag position zero in the results it's almost better than having the first position in the results and it helps to tell you how much Google trusts your site as the authority.
---
Google Marketing Attribution (Finally!) Explained
Understanding where and why your users convert is important. Each and every user journeys through different channels and interacts with your brand both on- and offline before making a final decision. In this post, you'll learn all about Google's attribution models and how they can impact your marketing strategy.
In Google Analytics, navigate to Conversions > Attribution > Model Comparison Tool. Here you can directly compare these models of digital marketing attribution. Read more…
---
How Can Your Online Site Show Your Brand's Credibility And Quality?
Having an online site is crucial to your business. However, how does it really affect your brand's credibility and quality towards potential customers?
Traditional marketing methods are slowly dying as high-tech methods began replacing them. With advertising in magazines and newspaper losing its luster, this is where websites come in.
One of the most important elements of your website is the overall look. Research shows that 75% internet users judge a website's credibility based on how it was designed. To make sure those 75% makes a good judgment on your website, it must have: Read more…
Our Insights:  Establishing credibility is just the first step, you also have to convert.  But this article is a good start in that direction with some of the elements that it brings up.
---
How Long Does it Take to Rank in
Google

? [Infographic]

1 Week, 1 Month, or even a Year Plus? Discover how long it actually takes to rank in one of the top Google positions.

A week, a month, a year plus? The question of how long it takes to rank top of Google is one that we're asked almost daily. Unfortunately, it is a difficult question to answer as there are just so many variables to consider: existing domain authority, competition, on-site ranking factors, off-site ranking factors… The list goes on. Read more…

Images from .SEO, seosherpa.com, semrush.com, searchenginejournal.com, seerinteractive.com, tweakyourbiz.com