---
SEO This Week Episode 110 – Posts, Cloudflare, Expired Domain Hunting
Welcome to Episode 110 of SEO This Week! This week we are taking a look a case study on the education site market and what can be learned on how to rank them. We are diving a bit deeper into technical SEO using Cloudflare Workers. We are checking out a new (at least the first I've seen it) feature in YouTube to increase engagement. And we are looking at some changes in how Google is showing your offers.
We are also being joined by Bill Hartzer for a discussion about expired domains, how to find them, and what to do with them.
All this and more on SEO This Week Episode 110!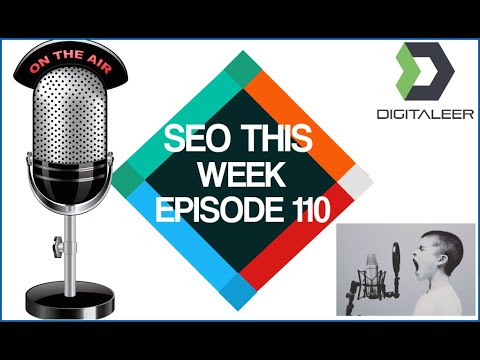 ---
An Actionable Guide to SEO for Higher Education Marketing
Within this series, we are doing an updated rolling analysis across several niche industries and digging into what it takes to rank in those specific industries at this very moment in time. We are jumping into our massive datasets to pick out the top ranking factors we find for how certain sites rank in specific industries and providing all the juicy goodness to you. We will also glean some insights when blending all these findings to see what is changing as a whole in the SEO space when it comes to SERPs and ranking signals in general. Read More… www.serpwoo.com
Diving into Technical SEO using Cloudflare Workers
With this post, we illustrate the potential applications of Cloudflare Workers in relation to search engine optimization, which is more commonly referred to as 'SEO' using our research and testing over the past year making Sloth. Read More… blog.cloudflare.com
Engage viewers with Community posts
Creators with access to the Community posts can interact with viewers using rich media. Community posts can include polls, GIFs, text, images, and video. Community posts help provide additional reach on YouTube and greater engagement with your audience. They always appear on the Community tab and may appear in Home or the Subscriptions feed. Learn how viewers can respond to your posts. Read More… support.google.com
Interact with your audience with new Community posts – YouTube
Read More… creatoracademy.youtube.com
New Google My Business 'Offers' View Makes Promos More Prominent – BrightLocal
Read More… www.brightlocal.com
How to Find High-Value Competitor Keywords (Actionable 5-Step Guide)
Keywords form the base of any successful SEO campaign. But, finding the right keywords that drive the right type of traffic to your business can often feel overwhelming, especially if you're strapped for time. Luckily, it doesn't have to be this way: What if you could reverse engineer the SEO success of others, and exploit their weaknesses to land higher rankings and more organic traffic? By finding all your competitor's top performing keywords you'll emerge with a proven blueprint for success. No more guessing which keywords drive the most traffic or conversions. Read More… www.robbierichards.com
SEO Conference
Learn from the professionals what you need to grow and succeed. No-Pitch, Unrecorded, Insider Conference packed with the training, knowledge and proven techniques that have enabled our teams to succeed in their respective online businesses. Read More… www.seospringtraining.com
Recommended Posts