---
SEO This Week Episode 109 – Fake Reviews, Algo Updates, Dead SEO
Welcome to Episode 109 of SEO This Week!  We have a bunch of articles this week that go over some of the best practices that Google is preaching through their talking heads and a whole lot more.
We will be taking a look at an FTC case, different "types" of SEO, and a great guide on influencer marketing.
All this and more on SEO This Week Episode 109!
---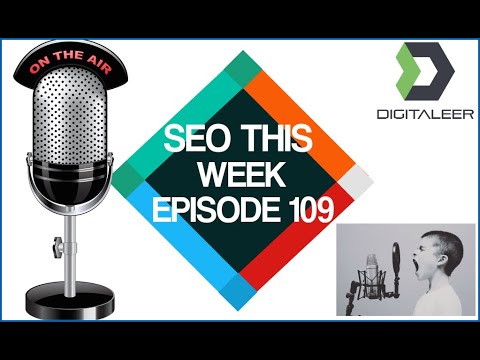 ---
FTC Brings First Case Challenging Fake Paid Reviews on an Independent Retail Website
The Federal Trade Commission today announced its first case challenging a marketer's use of fake paid reviews on an independent retail website. In settling the agency's complaint, Cure Encapsulations, Inc. and its owner, Naftula Jacobowitz, resolved allegations that they made false and unsubstantiated claims for their garcinia cambogia weight-loss supplement and that they paid a third-party website to write and post fake reviews on Amazon.com.  Read More… www.ftc.gov
5 types of SEO you've probably never heard of but need to know
Between algorithm updates, machine learning, and E.A.T—SEOs have an awful lot on their plate. Multitudes of "how-to" guides come out every year, each one claiming to have the key to the top of the SERP. But trends like these often fizzle away quicker than the Medic update rolled out. That leaves you looking for a long-term SEO strategy.  Read More… www.inflectiongrowth.com
Webinar Recap: SEO on the Edge – Getting Around Technical Barriers
Fresh off the back of his award-winning research on Edge SEO, we were delighted to host SALT.agency's Senior Technical SEO Consultant, Dan Taylor, to discuss this approach with us in more detail.  Read More… www.deepcrawl.com
How to Report Google My Business Spam [Feb 2019 Update] This week Google finally took a big step towards acknowledging the damage GMB spam does to consumers and businesses alike by announcing a new way to report GMB spam (apart from fake reviews) that gets reviewed by a human at Google: Read More… www.brightlocal.com
Google Shares Guidance on Pagination for SEO
Google's John Mueller commented recently on Reddit about pagination. Pagination isn't something you think about until you need to think about it. So getting a refresher on the proper use of pagination versus a canonical is useful, especially if you enjoy the nerdier side of technical SEO.  Read More… www.searchenginejournal.com
20 SEO strategies that will not work anymore
So, let me tell you 20 SEO strategies that will not work anymore for anyone who wants to get high rankings. When working on improving your SEO it's important to keep in mind that you need to have patience as if you are planting seeds in the ground. The results will take some time to appear but when they do you can finally reap the benefits.  Read More… www.besttechie.com
A Google Search Ranking Algorithm Update On February 27th?
I am seeing some new chatter and most of the tools are backing up the chatter around another Google search ranking algorithm update that started around yesterday, February 27th. We just reported on another unconfirmed update around February 22nd as well.  Read More… www.seroundtable.com
A 2019 Guide To Influencer Marketing
At TRIBE, we've worked with over 8,000 companies across different sizes and industries. Based on our research and real experience, we've put together a guide to get you started. From finding the right tools to developing a strategy, and measuring your campaign return on investment (ROI), consider this your ultimate guide to influencer marketing.  Read More… www.tribegroup.co
Business Tips for Quora (How to Get 650 Leads in ONE Month from JUST Quora Alone)
A Q&A session with Community Manager Kuba Rogalski on his best tips for Quora, and what he does to get 650 leads (that's just from Quora alone) per month. Find out what Kuba's top 5 Quora tips and tricks are inside the video!  Read More… www.youtube.com
Google's Martin Splitt Explains How JavaScript Sites are Indexed
In the first installment of a new web series, Google's Martin Splitt explains how the search engine indexes JavaScript sites.  Read More… www.searchenginejournal.com
A Comprehensive Analysis of the New Domain Authority
Moz's Domain Authority is requested over 1,000,000,000 times per year, it's referenced millions of times on the web, and it has become a veritable household name among search engine optimizers for a variety of use cases, from determining the success of a link building campaign to qualifying domains for purchase. With the launch of Moz's entirely new, improved, and much larger link index, we recognized the opportunity to revisit Domain Authority with the same rigor as we did keyword volume years ago (which ushered in the era of clickstream-modeled keyword data).  Read More… moz.com
7 Tips for Structured Data on E-commerce Sites
While compiling recommendations for structured data for a client, many questions came up. After looking through countless articles on schema markup for e-commerce and going knee-deep into Schema.org, I still came up short when trying to find answers to my questions. Whether you're working on implementing structured data for your own e-commerce site or a client's site, here are 7 things that will help you along your journey.  Read More… www.distilled.net
Recommended Posts