---
SEO This Week Episode 107 – Search Stats, Topic Clusters, and Links
Welcome to Episode 107 of SEO This Week!  This week we are looking at some updated statistics as they relate to search for 2019 that may help you close more business or get a buy-in for search engine optimization from the budget hawks.  We look at a post about topic clusters and how to use those to rank your websites.  We look at two interesting posts by Google that talk about how to use some of their tools.  We take a look at automating Screaming Frog and a cool link building technique for you to try.
This weeks tip will take a look at using Link Research Tools to conduct a link audit and maybe a bit on how to use it to save yourself from Panda.
All this and more on SEO This Week Episode 107!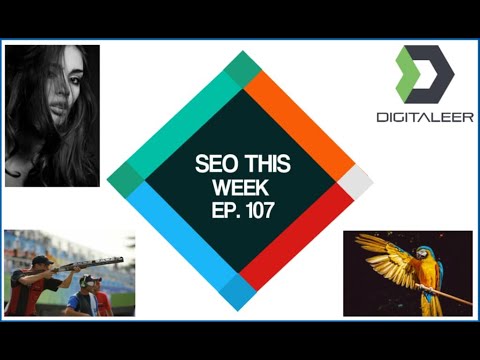 Google's John Mueller on How to Use Disavow Tool – Two More Times
In a recent Webmaster Hangout, John Mueller discouraged the use of the disavow tool. Apparently, his comments have inspired more questions. He keeps getting asked about it. In a tweet and in a Reddit post, John Mueller directly states that his comments in the video about the proper use of the disavow tool were specifically recommending it only for links that you were directly responsible for.  Read More… www.searchenginejournal.com
Automating Screaming Frog Using Batch Scripts
A simple batch script which creates a time and date stamped directory runs screaming frog using a custom configuration exports the desired reports and then renames the files.  I currently use a very similar approach to run crawls in the morning and archive crawls of our sites; and am looking into working crawl data into our build and deployment processes.  Read More… opensourceseo.org
Google Says Top Scores on Web.dev Won't Boost Rankings
In a Webmaster Hangout, someone related to Google's John Mueller that they followed Google's advice and achieved a score of 100 on Google's Web.dev tool. Having followed Google's recommendations, they asked why they "didn't see any ranking improvement." John Mueller explained that there is more to ranking than scoring well on the Web.Dev tests.  Read More… www.searchenginejournal.com
How to get Fraggles – Using links to named anchors to improve your search result snippets
A very, very long time ago Google announced their support for a new feature, that they referred to as "jump to:" links. The jump to links used internal "named" anchor links found in the HTML of a document. Think, "quick navigation" links to move you to a relevant section heading on a page.  Read More… builtvisible.com
How I Plan and Create SEO Topic Clusters
When I learned about the SEO concept of topic clusters, I decided to try it on the Buffer blog. Our articles on Instagram marketing were doing well then. So I tried to build a topic cluster around Instagram marketing.  Read More… alfredlua.com
27 Google Search Statistics You Should Know in 2019 (+ Insights!)
Data enables you to build robust Facebook audiences. Data enables you to track and attribute conversions. And, as we'll tackle today, data enables you to better understand the search engine at the heart of your PPC and SEO efforts: Google.  Read More… www.business2community.com
Recommended Posts